Once a woman hits midlife, their jobs can become boring and humdrum. It's not necessarily because it has actually become that way, but rather women realize that they are running out of time to have their dream career, start their own business or make the money they deserve. Don't let this happen to you. Midlife is the perfect time to dive headfirst into a new business or change careers.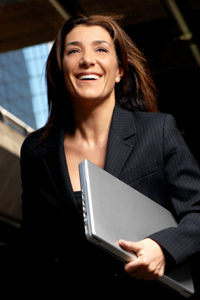 Sometimes, all you need is change
Although the Beatles may say, "all you need is love," the fact of the matter is, women in midlife may just need a little change. Changing careers and starting a new job can be just what the doctor ordered. Decide where your priorities are and what type of change you want to make. Some women may want a job with more flexibility to be in the outdoors, others may look towards something more fulfilling such as non-profit work and others might dream of sitting in a position of power, complete with a window seat. Whatever it is that you desire, go after it. A few quick changes to your resume from years past and you can begin applying to the job of your dreams.
Forget the boss – start your own business
For many, the dream of entrepreneurship seems too far-fetched and out of reach. However, it's not as silly as it might sound. If there is something that you are passionate about, midlife is not too late to give it a shot. By the time you hit age 40, you have an established work history, credit history and enough life experience to understand what makes a good business leader.
Choosing a business may be the hardest part, but once you decide, stick to it and make your dreams, and the freedom of making money on your own, a reality. If you want to be an entrepreneur badly enough, make it happen. Do not allow your fears to get in your way, just start at the beginning and work from there. For example, if you want to start your own bakery, you would begin by creating a business plan. Research the equipment you would need, the types of baked goods you would serve, the demand in your area and possible locations for your new venture. Once you have it all laid out on paper, take it to your local bank to seek startup capital to finance your bakery.