If you want to show your dad or father of your children how much you love him, a good suggestion is a health-friendly gift that'll keep him fit. Here are some healthy Father's Day gifts that'll keep your dad in top condition: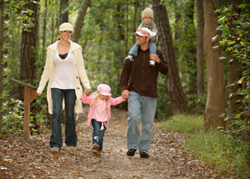 Hiking Trips
If your he loves the outdoors, a hiking trip for the entire family on Father's Day is a good idea. Aside from being able to exercise those leg and back muscles, the entire family gets to commune with Mother Nature. Plus, a nature-inspired vacation during the Father's Day weekend serves as the perfect time to bond with the family. When looking for hiking trip destinations, the Internet is a very useful resource since there are many local hiking parks with websites.
Healthy dishes
A healthy dish that's based on your his favorite foods is definitely a good way of starting the day. You don't have to go all-organic when preparing a Father's Day dish. If he loves meat, then opt for a delicious steak dish with a crispy green salad on the side. For healthy recipes this Father's Day, check out websites that offer hundreds of free recipes that'll satisfy your dad's taste buds and keep his heart healthy.
Spa Treatments
Who says only women enjoy spa treatments? On Father's Day, treat the dad to an all-day pampering experience. A manicure, pedicure, a professional shave, and a haircut can make any man of the house feel like a king for a day. This gift is especially perfect for workaholic dads who need to de-stress for a day or two. Aside from Father's Day cards or Father's Day crafts, nifty Fathers Day gifts include gift certificates from a high-quality spa.
Marathons
Aside from a homemade card full of Father's Day poems, you can show your appreciation and love by signing him up for health-friendly Father's Day events. These events include marathons or sports activities. You can check out local health clubs or organizations that hold Father's Day-inspired marathons. Aside from helping your dad keep a healthy weight, you're also helping out others since many marathons are sponsored by charitable organizations who are trying to raise funds.
Celebrating Dad Day through these kinds of events and activities can definitely make him feel appreciated while keeping a healthy outlook in life. Plus, many of these health-friendly gift suggestions won't cost that much.
sources:
BBC
Manitoba Marathon
Forbes Traveler