Whether you've been off of work for years or are just returning from maternity leave, going back to work after time at home can be a very difficult transition. Many things can change so it's important to view your return to the workforce in a positive light. Your years or months of experience in the home are invaluable and many companies and businesses would be delighted to have a mature and responsible individual work for their organization.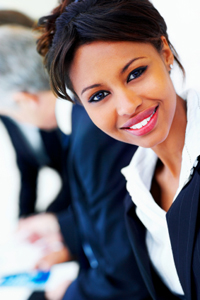 Changing priorities
Women going back to work after years at home face the biggest challenge of changing their priorities. While at home, family is the main focus of day to day life so suddenly being stuck in an office for 40 hours a week can be a major shock. However, starting a new career can be very rewarding and fulfilling after years of thinking, planning and worrying about the family. Help make the transition easier by setting personal career goals that can help you grow as a person and employee.
Changing wardrobes
Most stay-at-home moms become all too accustomed to spit-up, smudges and sticky fingerprints on their clothing. Updating to a more professional wardrobe can be expensive, but it doesn't have to be. When first starting a new career, start with the basics. Slacks, skirts, blouses and sweaters in neutral colors is a great place to start. After becoming accustomed to how others dress at the new job, you can begin adding appropriate items as necessary. Start small so you don't waste any money on clothing that is too casual or to fancy for your new position.
What can homemakers put on the resume?
Resumes for stay-at-home moms returning to the workforce do not have to be limited solely to prior paid work experience. Coaching a soccer team, serving as president of the PTA or volunteer experience are all legitimate and welcome resume fillers. Don't be ashamed of your time as a stay-at home mom and feel free to update your resume with any experience you feel may be worthy in a traditional workplace. If your prospective employer scoffs at your experience as a full time mother, you should consider looking somewhere else that is more family friendly, especially if you still have children at home.